(1) Elizabeth is the only child of King Henry VIII and his wife Anne Boleyn to survive.
(2) She works hard in school and becomes one of the best-educated women in England.
(3) She can speak, read, and write in ten languages!
(4) But being a member of the king's family is very hard.
(5) Everyone wants to be her friend –but they are pretending.
(6) They want to be close to the king.
(7) Growing up, Elizabeth has one friend she can trust – her half-brother, Edward.
(8) He becomes king after Henry VIII dies.
(9) But then Edward dies when he is 15.
(10) Elizabeth's half-sister, Mary becomes queen.
(11) Mary hates Elizabeth.
(12) When Elizabeth is 21, Mary imprisons her in the Tower of London.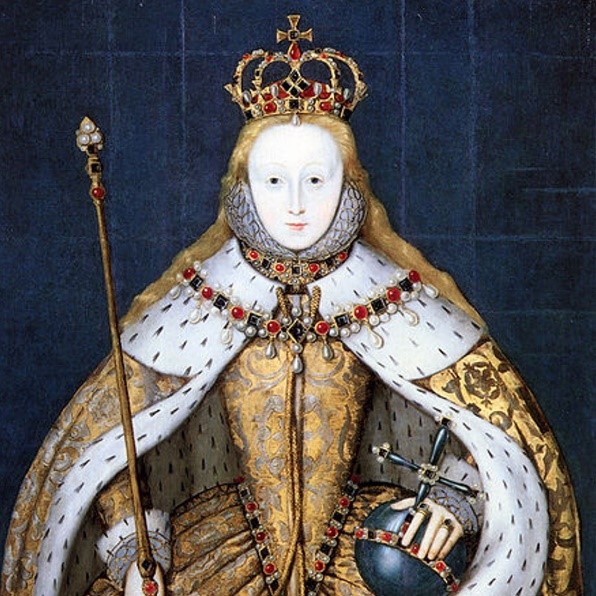 (13) Five years later, Mary dies. Elizabeth becomes queen.
(14) It is now 1558.
(15) Elizabeth is twenty-five years old.
(16) Most people think she is not strong enough to be queen.
(17) But she powders her face white and appears before everyone.
(18) "I will never marry," she says.
(19) "I will be married to England."
(20) She rules for 44 years.
(21) Times become hard.
(22) Spain attacks England.
(23) That is when Elizabeth shows how strong she is.
(24) She goes onto the ships and speaks to the sailors.
(25) She walks among the soldiers on land.
(26) The Spanish have more men and better ships and guns.
(27) But the English, inspired by Queen Elizabeth, win the war.
(28) England becomes Europe's most powerful country, and Elizabeth becomes England's greatest queen.
King's Servants 2 Activity 2
Find the servants.  The number in each sentence is marked on the left.  Write them in the boxes on the right.
Sentence

Number

Number of servants

Write down the servants.

1

2

 

2

1

 

4

3

 

6

1

 

7

2

 

10

1

 

12

1

 

24

2

 

25

1

 

26

1

 

27

2

 

28

2