Northern Ireland
Grades 4+
Okay, kids, climb onto the Magical Mystery Tour, a bus named for that great song by the Beatles.
Who are the Beatles, you ask? You're kidding, right?
You're not kidding.
Anyway, you little snots, you will find a lunch sack on your seat.  Leave ten euros with Mr. Z.  What do you mean your mother said that lunch is part of the trip! Of course it is!  But that doesn't mean it's free.
Inside is a peanut butter sandwich, half of an apple, half of a banana, some Skittles wrapped up in Cellophane, and a can of soda.  Now how's that for yummy!
Buckle up. The road can get a little rough.
*
Here's our first stop. The rope bridge at Carrick-a-Rede. 
You kids have a good time running across it and jumping up and down. Me and Mr. Z. will stay here and have some lunch and maybe two or three bottles of stout, the beer Ireland is famous for.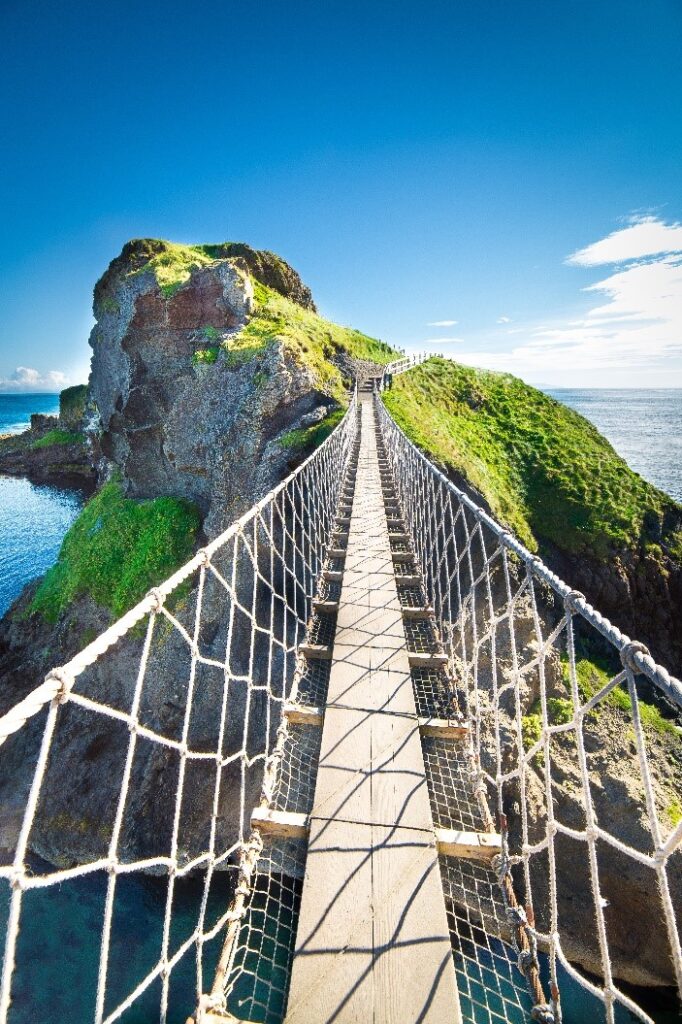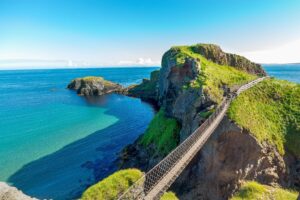 If the bridge breaks or if you fall off it or off a cliff, don't scream on the way down. We don't want you scaring us or anyone else.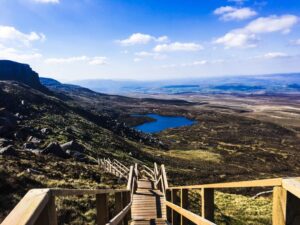 And now to another pathway: The Stairway to Heaven. It's a beautiful boardwalk trail that crosses the land and climbs Cuilgach Mountain.
Okay, enough walking. You kids are getting Mr. Z. and me tired. Now we're driving into one of best places on the planet – Northern Ireland's fairyland.
If you can, find a four-leaf shamrock for good luck (only one in 10,000 has four leaves). If you're nice, you could give it to Mr. Z and I as a tip for the trip. You wouldn't want to keep it for yourself, would you? A dirty piece of clover?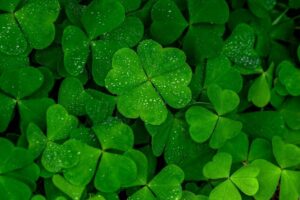 If you do want to keep it, then put it in a piece of wax paper, and put it in a book.  That way it will keep for a long time.
Me and Mr. Z. have wax paper for sale up here in the front of the bus.
Here we are, in Northern Ireland's enchanted woods. Where elves, fairies, and leprechauns live.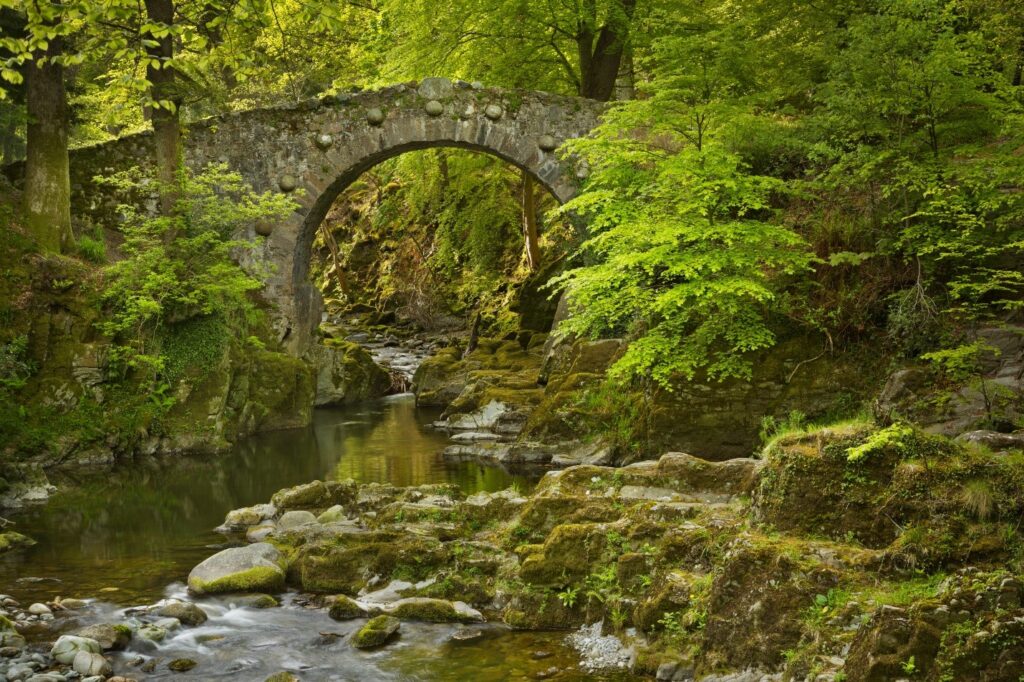 Okay, everyone out of the bus. Cross the stream and follow the path downstream.  Mr. Z. and I will stay here and guard everything and play rummy. If you don't make it back by dark, we will eat your lunches. So have fun!
And don't forget!
Keep your eyes out for fairies.
You must look very carefully.  They're smaller than a flower.
Ah, there's one now!
Across the stream and in that greenery off to the left.
Do you see her?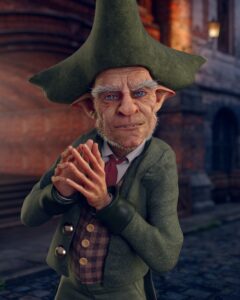 Also, on the last trip, everyone spotted a leprechaun. Here's a picture just before he scurried away. He was in front of one of the ruined castles.
Capture him, and he will have to give you his pot of gold! He keeps it at the end of a rainbow.
Be sure to share the gold with your favorite tour guides!
Everyone back? Anyone capture a leprechaun or a fairy? Any elves?
No?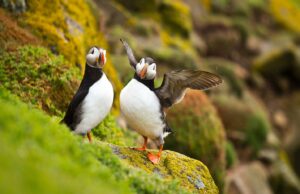 Not even one of these sweethearts? Children sometimes mistake them for fairies and elves. They're called puffins and are common in Northern Ireland.
Well, okay. So now we're moving into the spooky part of Northern Ireland.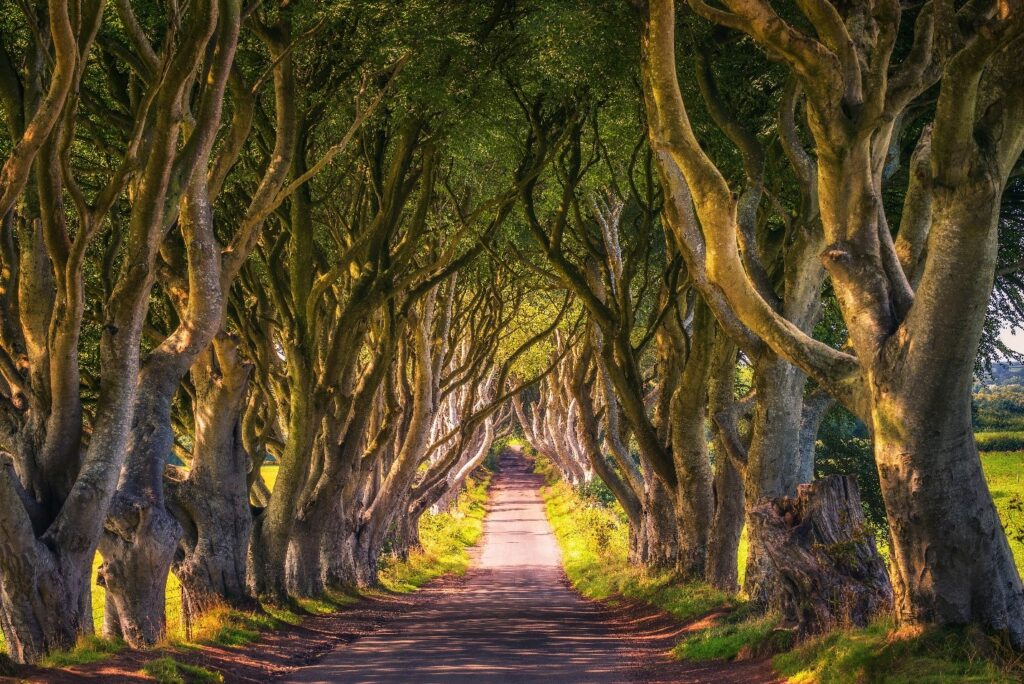 First we must go through one of the spookiest set of trees in the world. 
The place is the Dark Hedges Tree Tunnel here in the county of Ballymoney. The bus won't fit through, so you kids climb out and walk.  Mister Z. and I will meet you on the other side – if the ghosts and zombies don't get you.  But don't worry.  They won't bother Mister Z and me.
Everyone back? You all here?  Too bad.  I was hungry for some sandwiches.  Anyway, here's our first stop. It's not haunted – just very interesting. It's Mussenden Tower, a library Frederick the Fourth Earl of Bristol built for his beautiful niece back in 1785.  A fire burned at all hours in the basement to keep books from getting damp.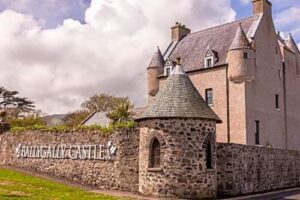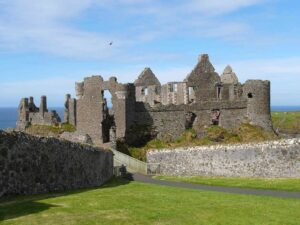 Now we're passing Ballygally Castle. On your left. It's a hotel – and haunted. Its main ghosts are Lady Isobel Shaw, who knocks on doors, and Madam Nixon, who sometimes floats around in a silk gown. But we're not staying there. We're lost too many children there on past tours. Parents have gotten pretty upset.
Ah, here we are, further up the Antrim Coast. A place you will like much more. And it's cheaper, so I can keep more of the money your moms and dads gave me to get you a hotel.
It's Dunluce Castle. Mr. Z. and I thought you kids would love to spend a night here. It was part of Game of Thrones, and many years ago it had some of the first indoor toilets in Europe. But its best part is that it's haunted. A kitchen wall once fell into the sea, killing the cooks and other kitchen staff except for one kitchen boy. Legend says you can still hear the dead screaming.
But the most famous ghost at Dunluce is Maeve Roe. Her father, Lord McQuillan, had told her to marry Rory Og, part of the McQuillan clan, but she was in love with Reginald O'Cahan, an enemy of her father who had been a prisoner there. Her father locked her in a tower, but Reginald rescued her. They set off on a boat below Mermaid Cave, below the castle, but the boat was bashed against the rocks. Her and Reginald drowned. His body washed ashore, but Maeve's was never found.
Her ghost haunts the castle ruins, sometimes crying for her lost love.
Don't want to stay there? Afraid you'll get wet if it rains? Or are you a bunch of 'fraidy cats?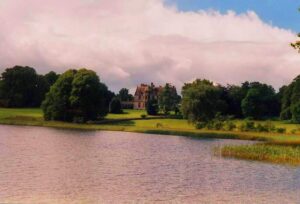 Well, then how about Leslie Castle? Part of it's a hotel.
Sir Paul McCartney, of the Beatles, got married there, and Sir Mick Jagger, of the Rolling Stones, stayed here. You can swim in the pools or fly-fish in the three lakes or the stream.
Best of all, no ghosts!
*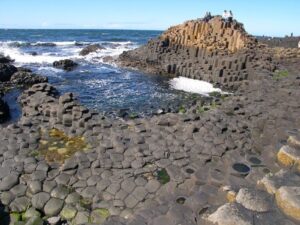 Good morning.
No ghosts today. But now we have giants!
This is the Giants' Causeway. It's one of the wonders of the world.
Legend says giants build it to help them enter the sea.
It has 40,000 rocks perfectly wedged together.
But Mother Nature, not giants, built it. It's 60 million years old – older than your grandmothers.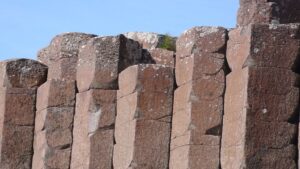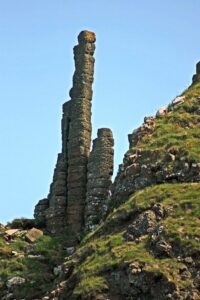 Best, of all, entrance into it is free, so me and Mr. Z. will only charge you $5 US each to help you see the sight and to keep you safe.
Before Mr. Z. and I drive the bus onto the ferry for Eng-land, we'll stop at the Crum Goal (goal means "jail"). It's where you kids belong. Because someone stole the sand-wiches and Skittles Mr. Z. and I took!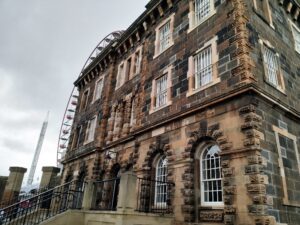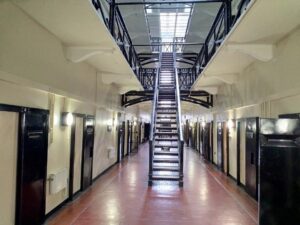 Northern Ireland Activity 1 Grades 4+
Draw trees for the following sentences.  Label the parts of speech.
N         Noun
V         Verb
D         Determiner
Maeve's ghost haunts Dunluce Castle.         (Treat Dunluce Castle as one word.)
Leprechauns want to protect their gold.
A rope bridge crosses the gorge.
Northern Ireland Activity 2 Grades 7+
Complete Activity 1. Then draw trees for the following sentences. Label the parts of speech.
The Stairway to Heaven is a boardwalk trail. (Treat "Stairway to Heaven" as one word.)
Dunluce Castle's killed the kitchen staff.        (Treat Dunluce Castle's as one word.)
Mussenden Tower is a library Frederick the Fourth Earl of Bristo built.
   (Treat Mussenden Tower as one word; also treat Fourth Earl of Bristo as one word.)