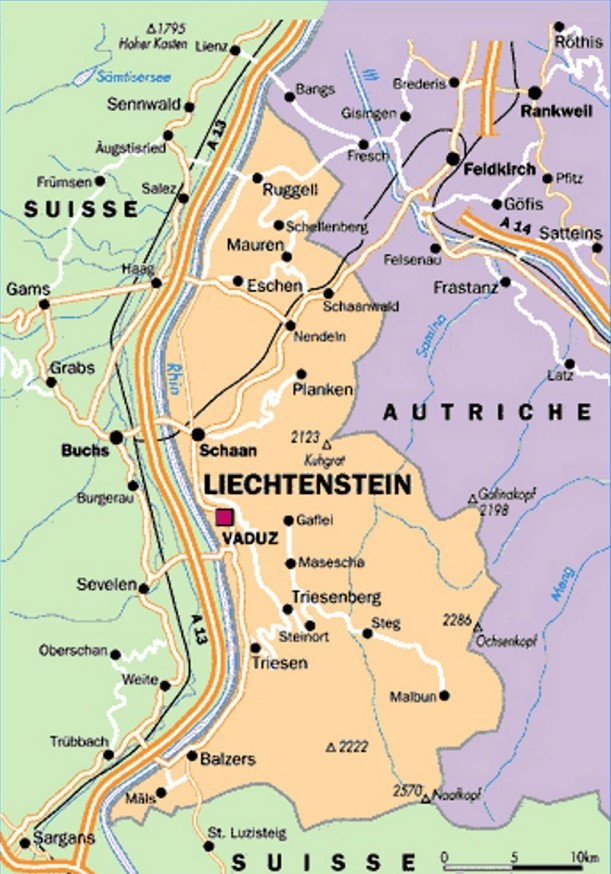 Nestled between Switzerland and Austria, Liechtenstein is seven miles wide and 15 miles long, which makes it the sixth smallest country in the world. It has no airport, no train station, no maternity ward … and no wars.
And it has more Olympic medals per capita than any other country in the world. It has ten, seven of which were won by members of the same family.
∗
Liechtenstein is breathtakingly beautiful. Located on the western bank of the Rhine River, it is covered in thick forests, lush meadows, and snow-capped alpine peaks. Majestic Gutenberg Castle looks torn straight from the pages of a fairytale book. Eight hundred years old, it has been built, demolished and rebuilt several times.
With 1.8% unemployment and a per capita income double that of Switzerland, Liechtenstein is filthy rich. Its tiny size is its main asset. Being a tiny nation encourages solidarity and union of the community. Its openness, flexibility, and economic and cultural exchange with other nations will mean that Liechtenstein will almost certainly continue to prosper.  After all, its name means "bright stone."
Examine the above essay.  Determine if the underlined words are prepositions. If they are not, then name what part of speech they are or make a question mark if it is a part of speech we have not covered yet.
 

 

Preposition?

Another Part of Speech?

(If so, name it.)

Haven't Had This Yet

1

Between

 

 

 

2

Is

 

 

 

3

Which

 

 

 

4

And

 

 

 

5

It

 

 

 

6

Than

 

 

 

7

In

 

 

 

8

Of

 

 

 

9

By

 

 

 

10

Breathtakingly

 

 

 

11

On

 

 

 

12

Straight

 

 

 

13

From

 

 

 

14

Fairytale

 

 

 

13

Several

 

 

 

16

With

 

 

 

17

That

 

 

 

18

Almost

 

 

 

19

Certainly

 

 

 

20

To prosper