(1) An attempt to defraud an art collector first brought Michelangelo to fame.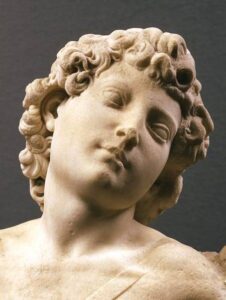 (2) He had carved a statue of Cupid in the style of the ancient Greeks. His patron, Lorenzo de' Medici, then suggested an elaborate con: He asked Michelangelo to artificially age the statue so it would appear to have been discovered from an ancient site. 
(3) Passing it off as a recently recovered antique, they sold it to a cardinal in Rome. But upon hearing rumors of the scam, the cardinal demanded – and received – his money back. However, the cardinal was so impressed by Michelangelo's skill that he invited the artist to Rome for a meeting.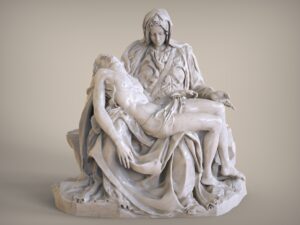 (4) There, Michelangelo won a commission to carve Pieta. It is a stunning work that depicts the Virgin Mary holding the body of Jesus after His crucifixion. Considered one of Michelangelo's greatest masterpieces, it showcases his incredible skill in sculpting the human form and capturing deep emotion in stone. The statue brought Michelangelo fame and fortune.
(5) Michelangelo went on to produce some of the greatest works of art in history, including the painting of the Sistine Chapel ceiling in Rome and the marble statue of David in Florence.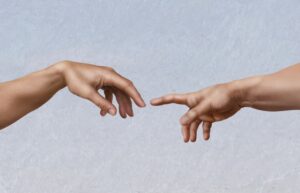 (6) David is one of the most famous sculptures in the world. A 5.17 meter (17 foot) marble sculpture, it depicts the Biblical hero, David. Completed in 1504, the work is a standing male nude, with a strong, muscular physique and an alert expression. He is ready for battle against Goliath. A slingshot drapes over one shoulder and a stone sits in David's right hand. 
(7) The sculpture is made from a block of marble. Michelangelo used the contours of the block to create a sense of movement. The face is a study in concentration and self-assurance, while the body is a study in balance and harmony. David has become a symbol of strength, courage, and beauty.
(8) Michelangelo was famous for his careful selection of marble for his sculptures. For David, however, he chose a very difficult block. Known as "the Giant," the block had been quarried nearly four decades earlier. However, it had been discarded because years of exposure to weather had caused it to become too rough for other sculptors to work with. 
(9) Despite the marble's condition, Michelangelo carved the forgotten block into one of the world's most beautiful works of art. Unfortunately, recent analyses of David have revealed that the poor quality of the stone has caused the statue to degrade at a much faster rate than most other marble statues.
(10) For now, though, David stands supreme. Michelangelo conquered the giant block of stone just as the Biblical David defeated the giant, Goliath. 
Give the paragraph or paragraphs the words below occur in. Then mark an X if they are existence verbs, action verbs, or noun-verbs.
| | | | | | |
| --- | --- | --- | --- | --- | --- |
| Word | Number of paragraphs it occurs in | Paragraph(2) it occurs | Existence verb? | Action verb? | Noun-verb? |
| defraud | 1 |   |   |   |   |
| Degrade | 1 |   |   |   |   |
| Drapes | 1 |   |   |   |   |
| Invited | 1 |   |   |   |   |
| is | 7 |   |   |   |   |
| quarried | 1 |   |   |   |   |
| Showcases | 1 |   |   |   |   |
| Sold | 1 |   |   |   |   |
| Stands | 1 |   |   |   |   |
| Suggested | 1 |   |   |   |   |
| Won | 1 |   |   |   |   |